I am a mixed media artist with a special interest in sculpture, drawing, digital transformations, photography and printmaking. I use pencil, water soluble graphite, charcoal, colored pencil, pastels, Conté crayon, ink, paint, along with found objects, silk threads, cheesecloth, beeswax, driftwood, computer, scanner, printers and more!  I use my own work as elements in both physical and digital collage, and my computer, scanner and archival ink jet printer are as much artists tools as my pencils and paint brushes.
My most current enthusiasm is for stone!  I have always loved and collected rocks, from the beach or on my travels.  Now I have been introduced to stone carving, and have completed a few smaller works. It is hard on the body but nonetheless is a joy!
I especially enjoy the layering and combining intrinsic to print making and collage. The photos and images I use are generally of my own work: I draw upon my backlog of drawings and prints to incorporate or transform them in new projects.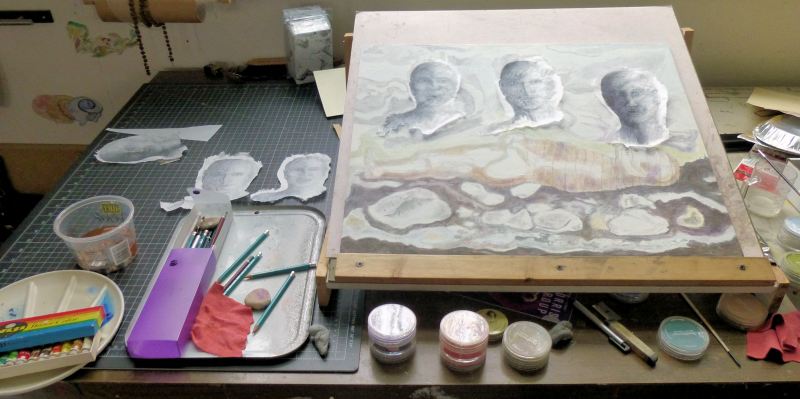 Sometimes an artwork comes together quickly, in an intensely satisfying rush! But more often my work evolves slowly, and I may finish an incomplete piece months or even years later, adding newer elements with drawing, paint and collage, or just by finding the right way to present an older piece. This approach is satisfying in a different, steadier way!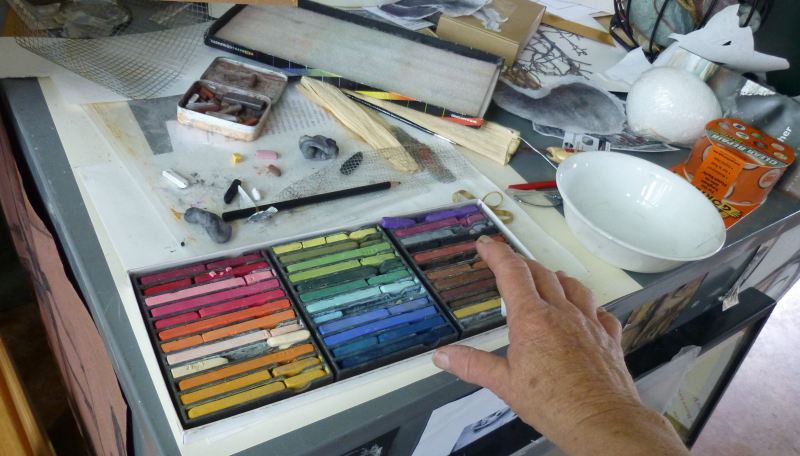 I do not start with a detailed plan, rather I explore an idea & appreciate the element of surprise. At some point a plan "happens" and I find myself working toward a finished piece. I love to improvise (think Jazz). I try to balance a need for control, which requires technical skill and practice, with a sense of play and exploration. Despite an emphasis on play, I take my explorations seriously. I am not interested in following techniques and trends in the art world, however I love to see the work of other artists and to explore new techniques. It is a delight when I encounter a technique that will help me express my own visual "thoughts".
I make art to satisfy myself, and to share my experiences. Art is self expression: a visual journal of my experiences and emotions. At times I want to communicate the sense of mystery and delight I feel when I look around at natural and man made objects. At other times I may express the angst & pain I observe around me, or experience in my own life.
I liked to draw as a child, but disliked art classes and abandoned a college art major after a year, for computer science and a 25 year career in that field. "Making things" happened only as a weekend hobby until I moved to Port Townsend in 1998. Here I found time for making art, which became important and satisfying. Art has been my daily work for some years, now in my own art studio next to my home. I surround my studio with assemblies of found objects and odd creations: my yard art.
I have benefited from regional art classes as well as painting and sculpture classes in San Miguel de Allende, Mexico. I participate in a weekly art seminar that has fed the (social) artist in me for many years. I am a member of Corvidae Press, a fine art printmaking guild, and participate in our annual print exchanges. I participate in the annual Brooklyn Art Library Sketchbook Project, and enter work in regional juried art shows when the wind is right! I volunteer at Northwind Arts Center, a non-profit art gallery and event sponsor in Port Townsend.
And I am one of so many Port Townsend artists!