My primary philosophy about art is simple: just do it. Make things.
Art theory and art history generates nothing. It is necessary to make things.
Make things you enjoy. Make things that interest you. Keep trying until you like what you make. Then … make more!
I draw, paint, take photos, cut, grind, shape, paste, print, copy, erase, assemble, cut some more, hammer, drill and repeat.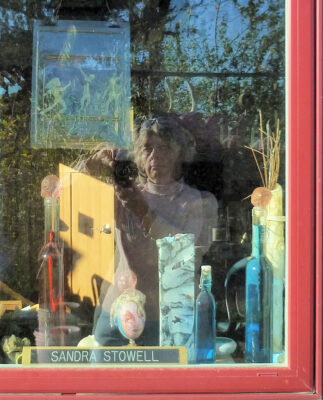 My technique is most refined in my drawing and my digital work. I learn as I go, and my sculptural technique is rough. But I can see the progress as I keep working; I am gaining experience and skill.
My 3-D and relief efforts originated from my own home building experiences. Initially I used leftover construction materials. My approach to my "yard art" continues to be rough and ready: very informal and very much for my own joy. I gain additional skill through practice, and there is more refinement in the work I display, sell or gift these days.
As a mixed media artist, I use pencils, soluble graphite, pastels, Conté crayon, ink, paint, photography, cement, art mediums, resin, paper clay, found objects, silk thread, cloth, beeswax, driftwood, and more. I work in both physical and digital collage; my computer, scanner and archival ink jet printer are valued tools.
I rarely start with a detailed plan, instead I improvise & explore an idea or an image. I embrace the element of surprise. Generally I am able to balance my need for control, which requires technical skill and practice, with a sense of play and exploration. However I take my explorations and experimentation quite seriously. Once a plan develops, I work to create a fully finished piece.
I am not interested in following trends in the art world, but I love to see the work of other artists and it is a delight when I encounter a new technique or a interesting image that will help me express my own visual "thoughts".
Art is a daily habit, resulting in a visual journal of my experiences and emotions over the years. I surround my studio with assemblies of found objects and my own creations: my yard art. I welcome visitors to my studio by arrangement.