My three panel dimensional artwork, The Struggle to Rise, is all but complete. Everything is attached and you can hange the panels on the wall or they can be displayed on a horizontal surface as shown.
This 3 part work has been a challenge to complete in many ways: it has been a struggle!
The first panel came together fairly quickly. The plan fell into place once I added draped paper mache "fabric" that became the rags. And my experimental paper clay base worked fine, and had the direction. It had become The Sudan. Mounting the figure and the small base to the panel was an experiment that worked just fine.
However the second & third panels were much more difficult to fully conceptualize… I think that is the word I need to use. I was in the dark. Where did these two figures fit in my troubled knowledge of the world and our times. I was struggling to understand their struggles!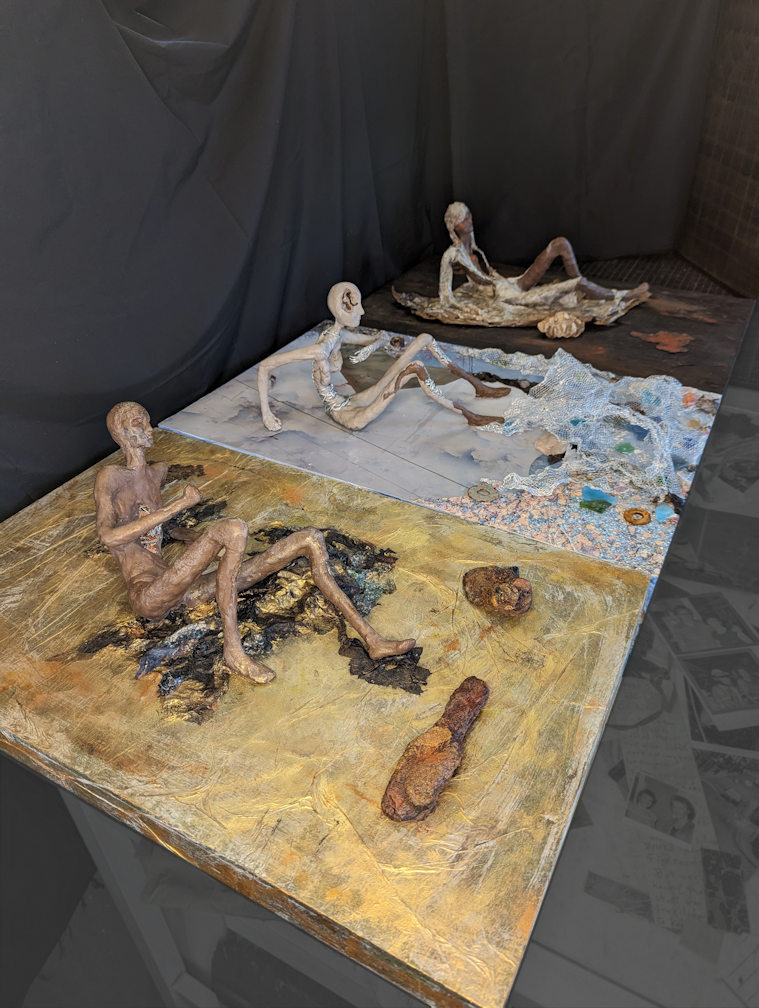 Now I need to find a venue to display this work. It will be too frustrating to just hide it away in my studio after all this effort. I also want to show the previous three part piece I completed at the beginning of the year. These need to be on show, if only for a month or two.
Sales are not so much the issue for me, although I do love the validation and a bit of reimbursement for the more costly materials. Sincere compliments and actual dialog about the work is wonderful, and keeps me going. It is a delight when someone engages and is getting the message or reactions that I hope to provoke in viewers. However I will say that a purchase does a nice job of demonstrating appreciation in a pretty clear way!
Anyway I hope to display The Struggle to Rise and my group of three Walkers somewhere nearby within the year. That would be so nice!