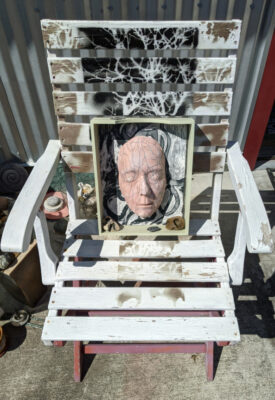 An entertaining article, spun from a series of written interview questions, identifies me as a macabre artist! I find I rather like the term, at least at the moment. Certainly some of my favorite artworks do border on the macabre, and maybe some people find them so. Of course I have created any number of pieces that do not fit that description at all. So am I a macabre artist?
You can find the article on a site named Obsessed with Art, which features various artists willing to respond to their interview questions. I am very pleased to be featured, and I enjoyed reading this article. Of course I immediately wanted to edit and improve my own responses to their questions, but it is late for that now! I am left with is this question: am I a macabre artist?
Of course I want to argue the point! For one thing, I am naturally argumentative! And for another, I have read various definitions of "macabre". Here is the Merriam Webster definition, with three meanings for this adjective:
Definition of macabre
1 : having death as a subject : comprising or including a personalized representation of death: The macabre dance included a procession of skeletons. 2 : dwelling on the gruesome a macabre presentation of a tragic story 3 : tending to produce horror in a beholder this macabre procession of starving peasants
I may not be the best judge of my own work. When I look at the pieces I choose to display at home, I see variety. I don't necessarily find a recognizable style, only the works that I recognize as my own. But I do see themes that recur, some over and over through many years: bones, distortion, mystery, fantasy, and perhaps a sense that something is not quite right. And yes, death is a recurring theme in my art. But does that make my work macabre? Yes and no. Other themes that recur include family, birds, trees, and beauty in nature.
Certainly in the narrower sense of the first Merriam Webster meaning, the answer can be "yes".
Work about Life
However in the second and third meanings that are the focus of this statement in Wikipedia, I would answer with a resounding "no!". My work is not obsessed with death, does not focus on the gruesome, and plenty of it is about life!
In works of art, the adjective macabre means "having the quality of having a grim or ghastly atmosphere". The macabre works to emphasize the details and symbols of death. The term also refers to works particularly gruesome in nature.

Wikipedia
I do not think that the term "macabre" is an adequate description of me as an artist, but I can certainly enjoy this view of me and my work! And I embrace the term based on the narrow definition that death is a subject in some quantity of my work. A lot more of my work than I realized can be thought to reference death. For one thing, angels do make a lot of appearances. Although I don't think of my angels as about death: for me, angels are symbols or personifications of protection, defense, assistance, or love.
So as a description, the term "macabre artist" is certainly incomplete.
So again I ask you the question: am I a macabre artist?
Take a look at this short article at Obsessed with Art; it makes for fun reading. But then look at my online gallery, and decide for yourself just how macabre my work is!