Another local juried show…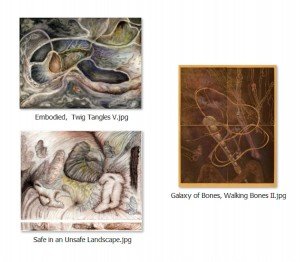 UPDATE #2: the morning of day 2 of the show I get to the gallery before it opens, whip away my piece, and hightail it to PT Art & Frame to get museum glass: the glare & reflections where it hangs completely obscured the work! Looks way better now, after this infusion of effort and $$$'s!

UPDATE:  one (only one) accepted:  Galaxy of Bones is in the show Alchemy of the Abstract at Northwind Arts Center opening Friday, and for the month of June.
Yes, I am doing it again: submitting (3) art works to yet another local juried art show. Got to wonder why:  it makes me crazy!  I get stressed, indecisive, busy (preparing or procrastinating on other things) and it costs money!  Maybe it is the getting busy part that makes me do it:  sometimes I get quite a lot done on other art projects or cleaning my studio!
Still it is quite stressful and not very rewarding even when my work does get accepted. And it is only maybe 60% of the time that one of 3-4 submitted works is accepted. It is always hard when all the pieces are rejected for a show. Also I have never sold work in a juried show, although I have sold when I arrange my own solo exhibit.
So here goes nothing 🙂