Figures from The Mediation
I have made three few individual cast of figures from The Mediation piece, now that I have a good material for the purpose. So I am considering exactly where and how these two will appear in a new work. One way I experiment is to use my computer. I place the figures in various existing or modified "scenes" from my photos and drawings. Also I arrange and photograph the actual cast figures on various backgrounds.
Sometimes I enjoy the photos of these temporary arrangements, or the digitally manipulated variations of the photos. I could even use a printed background for the actual figures, to be determined! So here are images of various arrangements; all unlikely to be finalized as more than prints.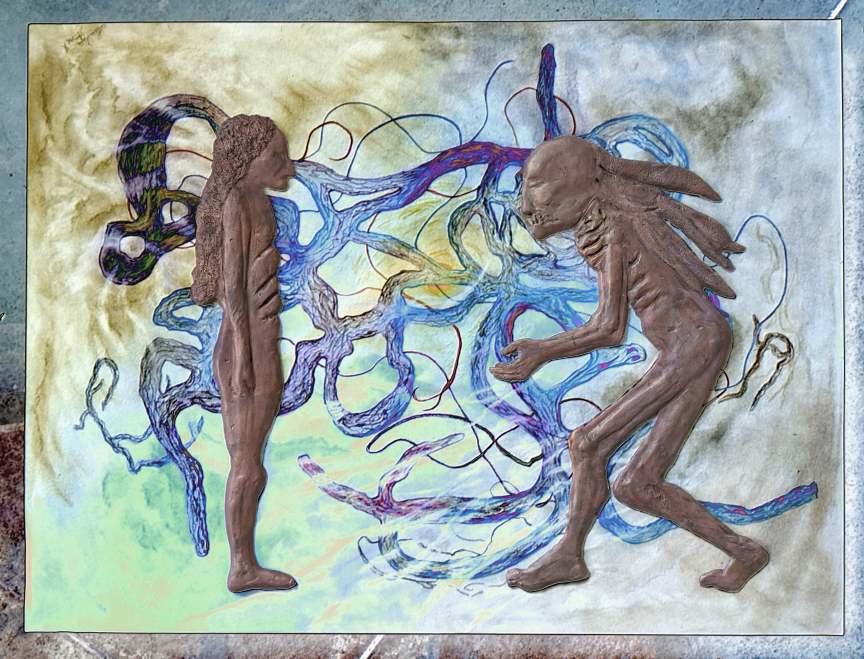 One dilemma has been my desire to make a durable outdoor piece. I cast the figures with a water/weather proof material, which should quite durable outside. Although very thin and brittle, they will be strong enough mounted on an appropriate surface. I do like them on some of my existing images, but I can't use those for an outdoor piece. They may provide inspiration. I will resolve the dilemma, one way or another, when I place these two into their "right" environment.
I like the figures in the heavy oval frame … but no. The size is wrong because these figures just need to be further apart. The frame size forces them too close together. And although I thought I would enjoy using one of my bones prints, these do not seem right either. Eventually I will find where these two figures from The Mediation really belong or I will set them aside and move on.