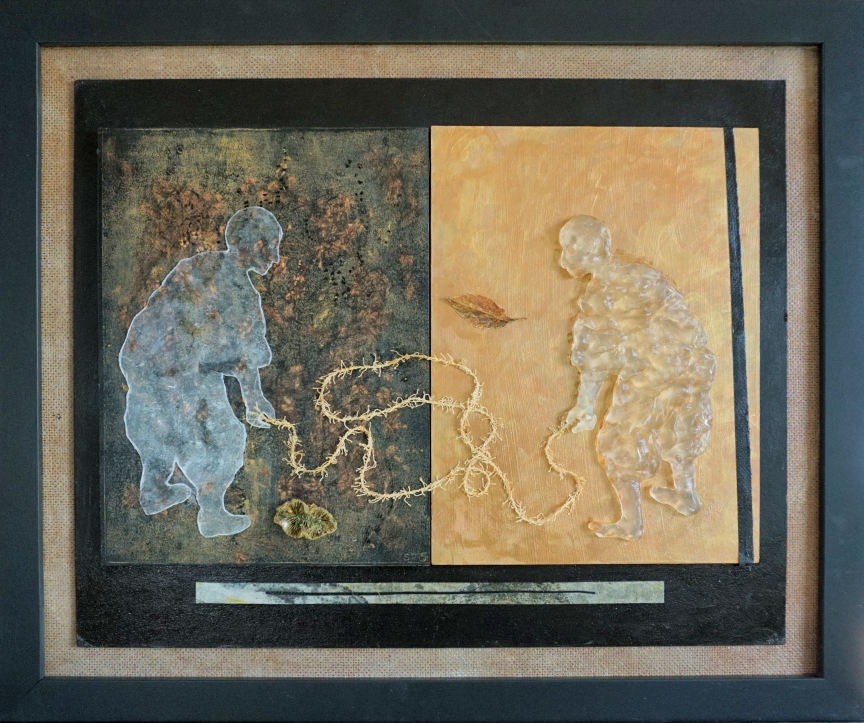 Two ambiguous barefoot figures interact in a serious dreamlike activity using a soft frayed rope. This dream game may or may not include the pearl in the "shell" or the floating leaf. The glowing translucent figure at right is all light, poised on a vibrant gold background. The flatter clear figure at left is the darker twin, a ghostly mirror image on a dark copper and black ground.
I am quite in love with my variations of this sturdy bas relief figure, although I will soon find a new theme for art projects! My barefoot draped figure is so sincere and so intent on the work or play at hand. These figures are clearly focused on an important activity!
Look at some of my other artworks to find this figure in other roles in my recent work!
This is a multi-media multi-layer work. I attached each figure to a separate panel, then mounted these securely to a thinner black panel and a sheet of sealed brown fiber board using strong adhesive. I used screws on the back to secure the panels together.
Note the dual panels are more or less flush with the face of the frame. The relief figures protrude, sitting proud of the flat black frame included with this work. A heavier thicker frame would protect the artwork better, but is not in my budget currently.
Two Dark and Light Twin Figures with Rope.
Mounted panels dimensions: 22″x18″, Frame dimensions: 24″x20″.