Last Cast of My Draped Worker
This is the last cast of my draped worker figure, for now. I found one unused in a drawer, and I found a good way to use him!
I still have the mold, but this favorite figure is retired for now and maybe for a long long time. I made several casts; I count seven but I may have missed one… And I am not too interested in making more work using this figure at this point. But of course that could change. Anyway each cast has its own personality as each is used in quite different artworks. And some figures are clear, others are tinted or painted, so no two are quite alike.
This artwork does repeat an earlier theme: that of the moon. But in a very different finished piece. Here I have my figure catching a crescent moon while mounted into a colorful translucent circle framed in a large embroidery hoop. This piece is designed to hang in window to catch the light.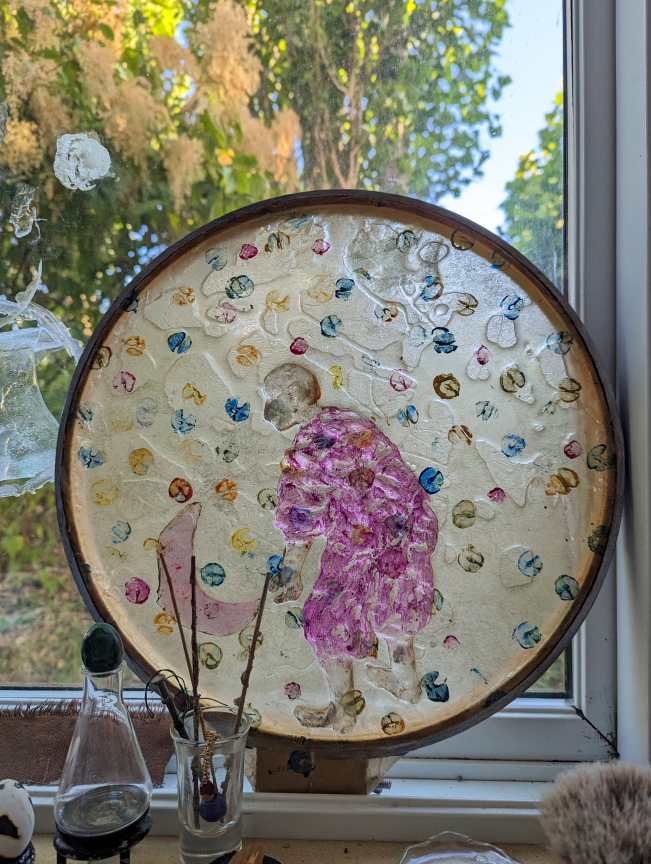 This piece is now ready to hang, with a copper wire attached at the top. The effect of this last cast of my draped worker on the moon changes with the light.