More lighted artwork, and …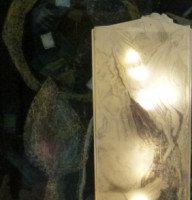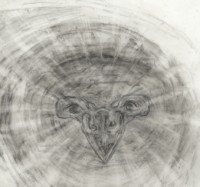 This plexi tower has a hazy print of one of my (held rock) drawings on it, and the LED "fairy lights" inside.
The bird drawing is a new version of my sea bird "after Morris Graves", done on translucent vellum.
Then, while working on one thing, I came across an interesting accidental arrangement of drawings removed from a small sketchbook. This inspired me to arrange most of the same drawings on my scanner, to produce the collage.