Revisiting a theme, and making it new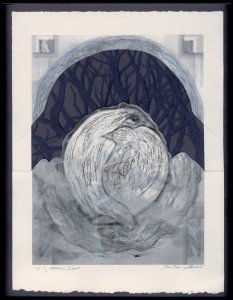 These two birds first appeared, in a full round nest, drawn in graphite with embossing. Now they have a new & different environment.
This mixed media piece is about love, parenthood, partnership, safety, and home. It has many digital layers, and now physical layers also: the soft off-white paper is float mounted to the dark grey matboard, after being cut apart. The dark trees are drawn onto the background board.
I was struggling to make this drawing into a fully realized piece, and somehow it all came together today: so satisfying!
The scan was done after framing, and does not have the detail & relief of the original!