As usual, thinking about what I am doing/making comes after the fact! And usually with input from others.
The sentence from my friend Maureen, used in my current art box, has provided me with a much better name for these creations. In the past I have made assemblies of "artifacts", "shrines", "reliquaries", and "treasure boxes".
Now I have a new name for all of these art pieces:  spirit box.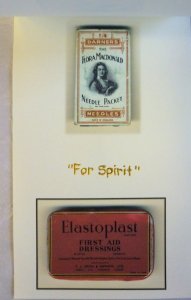 Here is quote from my own description of work made in about ten years ago:
I struggle to find the right words to describe the assemblies I make. Each piece houses a carefully selected collection of items that have a special meaning for me. And in a way that is outside any traditional religion, each work is somehow sacred to me. The terms shrine and reliquary come to mind, however I hope that my creations contain vigor and life, as well as natural and man-made remains.
All of the work I was trying to describe, and several other pieces made since, now seem to me best described as "spirit boxes". The works are absolutely creations designed to feed, repair, revive, or soothe the spirit!