Three Figures Finally Shape Up
I have been working in my studio, plugging away on a project that has been ever so slow to take shape. I often do start an art project without a final vision, and this current sculpture project is no exception. But now I have fixed on a final shape, and the work progresses daily my three figures finally shape up!
This is a three part sculpture, each being valid alone, but designed to fit together for a stronger impact. My working title is "Not Out of the Woods Yet", and I hope it works on several levels. Here are currently available previews: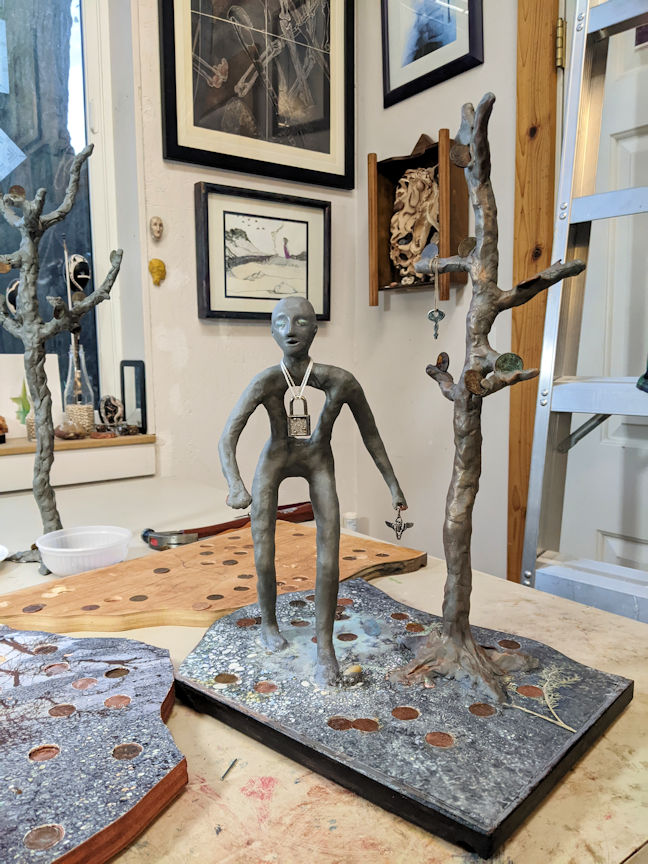 There is still plenty more work to do on this, but I know how to mount everything. Well that should be "sort of", as it is still tricky to get the figures mounted without too much clutter & mess. I did not plan adequately, but now I do know that I can figure it out.
I still have not selected the pothole to be printed and applied to the last section, but it may be one with my own shadowy reflection prominent. There are several of these to choose from, and so many other favorite potholes also!
I finished the first figure in July, but I didn't finished the third tree until earlier this month. By then I had part of the final plan. However I only came up with the three part sectional base with Surprisingly Artistic Potholes of Port Townsend in the middle of November, and now my three figures finally shape up!
Update on 12/6: The second section is now fully attached, with the mounting epoxy on the figure officially cured later today. She is stepping right in the mud! I will need to finesse this section a bit, and decide if there will be few more details added. Then on to the next one!