Variations on lighting the Grandparents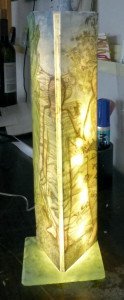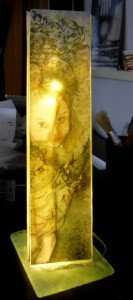 This is a new variation on a small light featuring my digital collage of drawings in mixed media using Inkpress backlight film. If I can find or make a working string of plug-in LED lights that is not too long & too bright, I can mount this piece onto the glass tile in a way that will be somewhat secure, though still quite fragile.
I found I had to add a color diffuser layer inside, around the LEDs, and touch up the color on the printed film for the saturation I want. I printed to the matte side of the film, which takes the ink beautifully, but is very matte/dull. For this light, I wanted a brighter more saturated look, so added watercolor and finished with gloss clear spray. It is now almost a satin finish …
The film I used is very stiff, and cannot be readily folded to wrap the corners of this 3-sided acrylic piece, although it could be wrapped around a cylindrical tube. It is not stiff enough to work without a support however. I have been experimenting with various transfer methods, all of which are problematic in one way or another (of course!). All require considerable additional remediation/enhancements to be satisfactory. Working with the lights is not easy: I cannot predict the clarity & saturation that will satisfy me and much trial & error with rework is needed.