Have you ever tried to develop a more elegant or more striking signature?
Surely we all want our signature to better reflect our personality, style and skills?
And an artist's signature should enhance, rather than detract from, the art work. Many artists admire the Chinese chop or seal, and may create their own.
So recently I have been considering my personality. One of my aspects is my "geek" nature, manifest in my computer science background and continued use of computers. Hence this new idea for my signature: my name in a vertical column of binary code.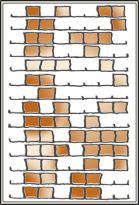 Some version of this experiment may become my "chop"… or not! But it will need to be a smaller, more discreet version of course. More work is in my future.