Working with small plates at the print shop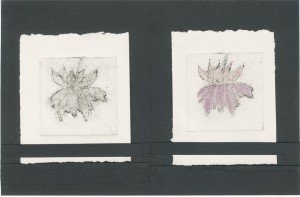 My new mini-print mini folio: the folio is 6″x7.5″, & has the hand rubbed iris print on the front. Inside are two variations from a shellac matboard plate, mounted for easy removal. The plates are 3″x3″. The color on the 2nd fuschia print is watercolor painted added after the print was dry.
I was tired working in the print shop yesterday afternoon, especially after completing an edition of 16 for our current print exchange. To experiment & use up ink, I grabbed leftover paper and printed some more, using the Iris that is featured in the edition with other recently created plates. Select an image to see the folio and these other prints in the larger lightbox display.
If only I had managed to get them straight on the paper! Oh well…