More with Lighting: another variant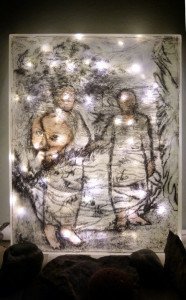 This is another variant of a digital drawing collage. The two adult figures are my maternal grandparents: a drawing derived from a very lovely photograph of them together.
The child is a transfer of a poor likeness of a a portrait of my granddaughter (by marriage). The whole is 11″ x 14″, in an acrylic box frame backed by LED lights.
Sounds simple enough, but it took a LOT of work & rework to get this right. There is just enough color and light diffusion so the piece looks good lit and unlit, I think.
The plug in LED lights are very bright, and come in long strings. I have not experimented with shortening them for a bit less light, but I do want that option, especially for smaller pieces.