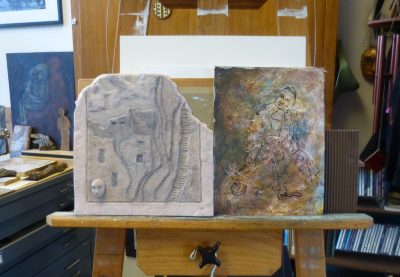 I am plugging away on resin casts (both this "Ruins" and my Moon Snail.  Somehow they just look naked when they emerge from the mold.  At first the new cast delights me:  if the casting is a success I have a new "baby"!  But after a few days I find myself a bit less satisfied…
So that is when I start to play with the surface, brushing or rubbing on a little pigment. This helps to bring these casts into the real world, where uniformity and cleanliness are rare.  I take photos and or scans along the way:  this helps me see what is working (or not).
This version of the Ruins has four pigments rubbed on here and there, and a clear matte archival coat.