Not Out of the Woods Yet is Signed and Sealed
My most ambitious sculpture to date is finished, now that Not Out of the Woods Yet is Signed and Sealed!
All that is really left to do is a good photo shoot of the final finished work. I think I can do better than this, but I need a better backdrop, careful lighting, and just a lot more attention to the angles! Here are a few results from a new photo shoot: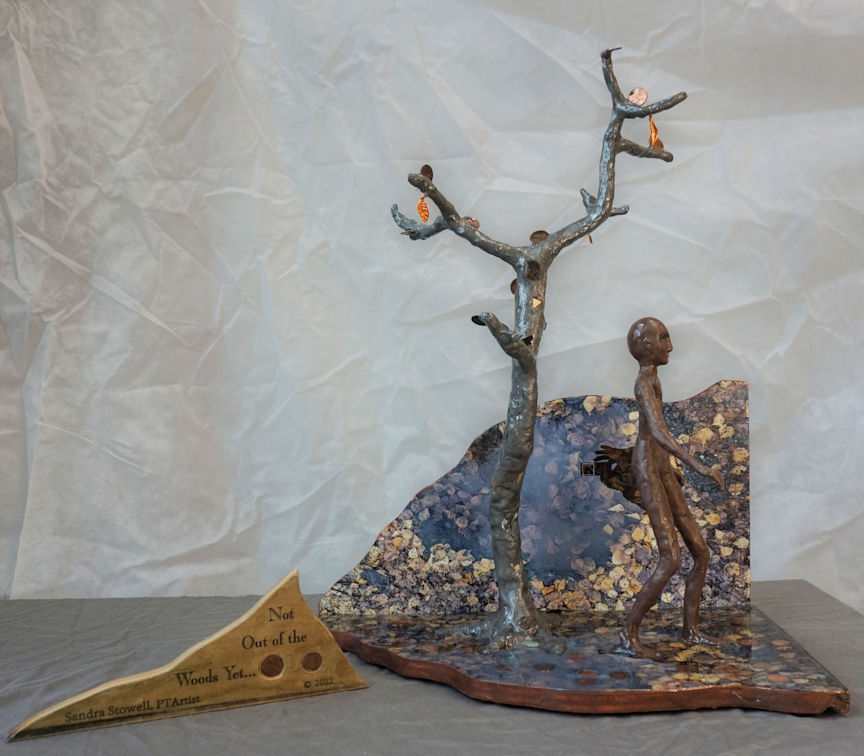 This brand new artwork is not for sale yet: I need a little time to myself with the finished piece. I always need that if the work is authentically new to me. At the moment this is single three part artwork (with label), but each section can stand alone. So when it is time for me to sell this, I may be willing to sell this as three separate mixed media sculptures.
The base of this is sturdy wood, and the dimensions as a single three part artwork are 25″ wide by 20″ deep by 25″ tall.
I still play with a few things that are removable and can be changed around: one figure caries a padlock and key on a chain, another padlock hangs from a tree. I have found a finer more delicate chain than the gold one in the photo above! Another figure caries its very own "pothole". Currently the grey figure wears a key on fine chain and carries a feather. But these items are not permanent parts of this installation, at least for now.
Background and About Not Out of the Woods Yet
I walk daily, and think it saves my soul and my body. I see interest and beauty all around, and take many photos. During the shutdowns and cautious times of the COVID pandemic I started to enjoy the poorly maintained roads in my small town. These inspired a photo series: The Surprisingly Artistic Potholes of Port Townsend.
In this piece three thin hollow chested figures walk the streets, wading across the Potholes of Port Townsend, or perhaps the potholes of Anytown. Here pennies grow on trees, to fill these potholes, but the figures have other more serious concerns as they stride forward. They walk to face all the challenges of life, and they are Not Out of the Woods Yet.
I have chosen sculpture, and these mediums, because I want my work to be, and to feel, strong. This work requires a three dimensional presence.
Please consider this as a sneak preview: this piece is new, and not yet for sale. I need to keep it close for a while, until I have fully considered its impact. But if you are interested in purchasing it, please let me do know. It will probably be for sale within the year.
I am already thinking on to the next one … I have something in mind that I hope to bring to fruition. And it may be another, rather different, triptych. And another major challenge!