Testing the Waters with a Photo Book
I spent an uncounted number of hours assembling/designing a first volume of The Surprisingly Artistic Photos of Port Townsend. I am just testing the waters with a photo book for the first time, and anytime I print I agonize!
After completing a first time book for my own enjoyment, I have recreated this book, with the same set of Pothole photos, on print on demand self-publishing site (I used Blurb). Now the book is available for purchase!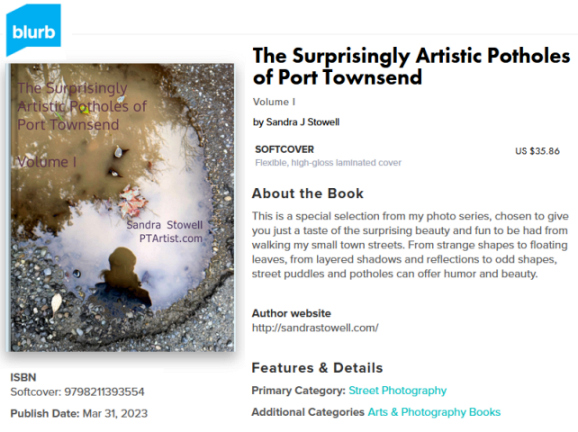 Prior to this I have made 3 or 4 modest hand printed and bound art books, and also printed some art images with accordion book kits. The kits are fun, but small format and are just not quite proper books! Creating photo books of my art has seemed like a good idea for a long time, but I have not ventured to use any online commercial printing services.
Now I have in my hands on the first one: I have an 8″x11″ "hard cover" photo book. Here is The Surprisingly Artistic Photos of Port Townsend Volume I. I designed and printed my book using using Vista Print services, and it was shipped to me in ten days. It is a slim 24 page book with a carefully chosen selection of my Pothole photos, nicely printed on lightweight satin photo paper (an upgrade option). There are two additional photos on the front & back covers.
Just one copy of this book costs $40 plus $8.95 shipping. An order of 10 would make the price $34 each, plus shipping. I don't think I can make any money with this pricing! But maybe these would be good for some Christmas presents?
Was it worth testing the waters with a photo book?
Well I really do like the Vista print hardcover book, and it printed as displayed. The design software was easy to use. But VISTA print does not offer the option to sell through them, and the book was more expensive on their site.
However I do not feel the same way about the Blurb softcover book which arrived today. I could do much better myself. It looks more like a business or student report than a book. It is glued then taped on the outside for a binding, with no blank pages front & back. The paper quality is barely adequate. So at a minimum I would need to pay extra for better paper, and a hardcover. In addition, the photo alignment is more difficult to understand in the Blurb software, and I had not noticed that not all the images were properly centered within standard borders. So it is off the market and back to the drawing board! Maybe with care and choosing more expensive options for paper and the hardcover, I could bring the Blurb book up to standard… TBD.