Working: additional drawings of Ratty

I am using my rats in two projects:  a 6'x6′ "curtain" that can be back lit, and on translucent 3-sided "towers".
I am showing the curtain & a "stage set" with the small "towers" in Seattle! But Ratty continues to divert me, even as a scurry to make this deadline.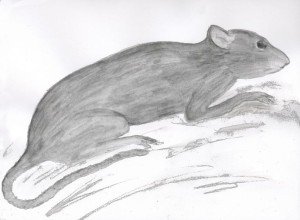 I will reconfigure the arrangement below, I think.  There are translucent images in 3 plastic box frames… I like the idea of the top rat swimming, but I will raise him above the water line, though the imagery of drowing, sink or swim, is interesting 🙂