Revisiting My Paperclay Angels
I am revisiting my paperclay angels with a twist; I used the silicone mold of The Meditation, Three Angels to create new individual figures. But this time I built up each figure individually and I have already modified the center figure considerably. I was never satisfied with the center "mediator" angel, so I needed to rework this one. The other two may be very similar to the originals, but will likely be slightly tweaked as I go along. Or I may create a scene with only two figures.
I took the center figure out, modified it, and it is nearly dry. Today I pushed the paperclay into the mold of the beckoning "death" figure. Each paper clay figures needs at least two days to dry slowly in the mold. Then I can carefully lift and turn over the heavy floppy mold, and peel the cast figures out to dry for another few days. Next I trim and modify it further.
I cast one figure at a time using this larger mold. Once I take my skeletal "death" figure out, I can fill the mold of the third "adamant" figure.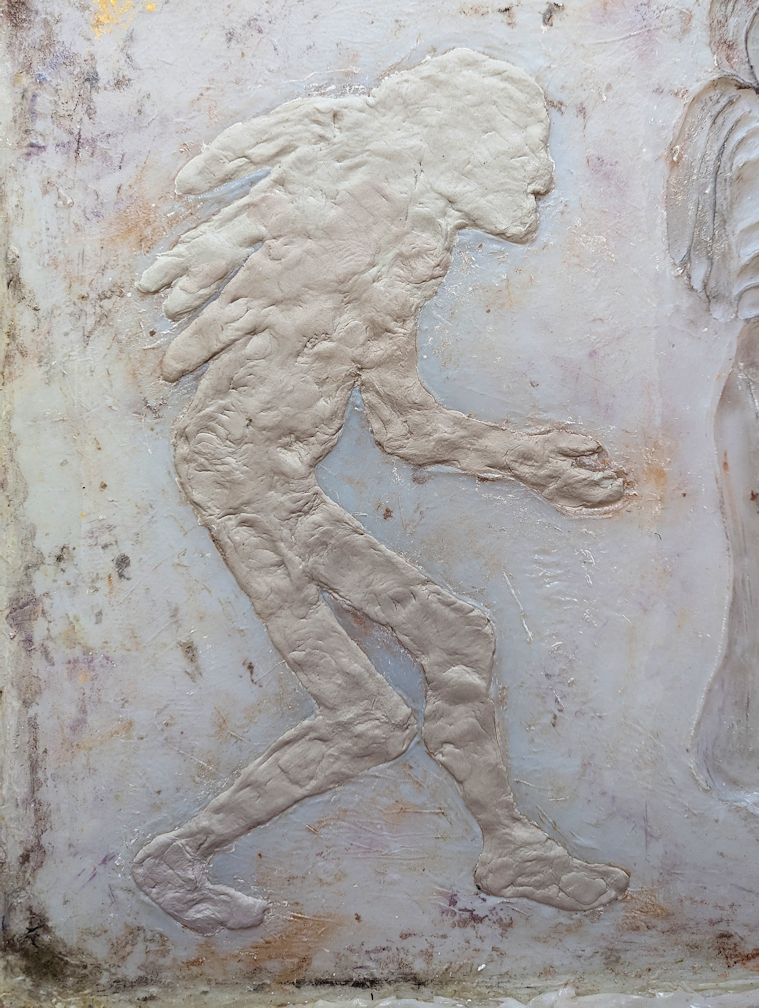 When each figure is dry, I will detail them. To detail paperclay figures, I trim, smooth, and fill as needed. I can also moisten and change the figures fairly easily, without losing the basic shape. I am thinking about a new background, and may reposition these three figures for the new version. Check back to see what happens with revisiting my paperclay angels.
Update: the second figure is out of the mold and drying now; see above. I may use the above two figures alone in a new work, setting to be determined! What are these two figures doing? Contact me if you have any suggestions!
Update #2: I am back from a trip, and back to work. I detail these new figures between stints on another project. Look at the new image added above to see the "mediator" figure with more depth and additions. I think she is almost finished! I started finish work on the front of the "death" angel today. Two days ago I added thickness to the back of this figure.